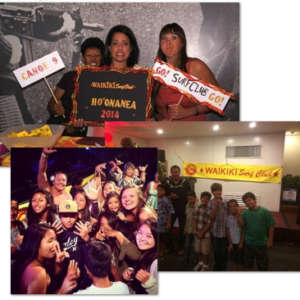 Go Surf Club, Go!
Since 1948, Waikiki surf club has been committed to preserving the Hawaiian culture by exposing men, women, and children so Hawaiian canoe paddling and the traditions and knowledge pasta down through generations.
The tradition of Hawaiian Canoe racing encompasses more than just the competitive nature of water sports. As a member of Waikiki Surf Club, you will glimpse the rich heritage of Hawaii's ancient seafaring people, and begin to understand what it must have been like for our ancestors to traverse the Pacific with learned precision and respect for the natural world.
Competition is but one facet of Hawaiian canoe paddling. At Waikiki Surf Club, members learn canoe rigging, stroke techniques, and other traditions and practices that make paddling a lifestyle and not just a sport.
Become a member of Waikiki Surf Club, and start your journey today!
Required Forms:
Completely fill out and sign all required forms. If you are a minor, please have your parent/guardian sign the required documents. The two basic forms that must be completed are:
A copy of your birth certificate, current driver's license, passport, or a government issued ID must be provided with your registration card and waiver. All new members must take an ID picture when the paperwork is submitted.
All membership dues and applicable fees must be paid within 4 practice days
Check with Membership Committee to ensure you are eligible to race.
Required Fees:
Membership Dues: These monies are used to pay for various club expenses such as minor maintenance of the canoes, transportation cost, race day expenses, activities, potlucks, and for all working committees throughout the year. All monies are used to function and operate the club for various club needs and expenses.
Koa Canoe Fund: These monies are used for the maintenance and upkeep of all koa canoes used or owned by Waikiki Surf Club. The fund is strictly allocated for this sole purpose.
Paddler Registration: This is a one time fee per year.
Members Only Racing Shirts: These monies are used to cover the cost to purchase and print racing shirts. Dues and fees must be paid in full prior to the due date in order to receive a shirt. Please indicate your shirt size on the Registration Card
Checks are to be made payable to Waikiki Surf Club. Please indicate the name of member on the check.